Hi there Team,
I asked this question on the inSpired Community by inSided (see original thread) and was redirected here.
Basically, within Zapier, I want to create a Step where Gainsight Checks if a new inSided contact is an actual customer (e.g. within Stage Retention, Onboarding, etc.)
See full question here:
Hi there everyone,
Our inSided community is open for anybody to sign up, but we always assign a "customer" custom role to our customers because there is some gated content that only customers can see.
Our moderation team spends up to 1h each day manually checking newly registered customers and manually assigning custom roles.
To check if somebody is a customer or not, we look on Gainsight  (our customer CRM😎), in order to see if that email address is linked to a customer.
Is there any way to automate this with zapier?
I envision it like this:
Trigger: New member registers on insided
Zapier checks if that email can be found on gainsight

if it can be found, check if it belongs to a currently active customer

if yes → assign custom role "customer"

if not → leave blank so we can do our own manual check and assign a role manualy (edge cases)
And the two comments by the inSided Team: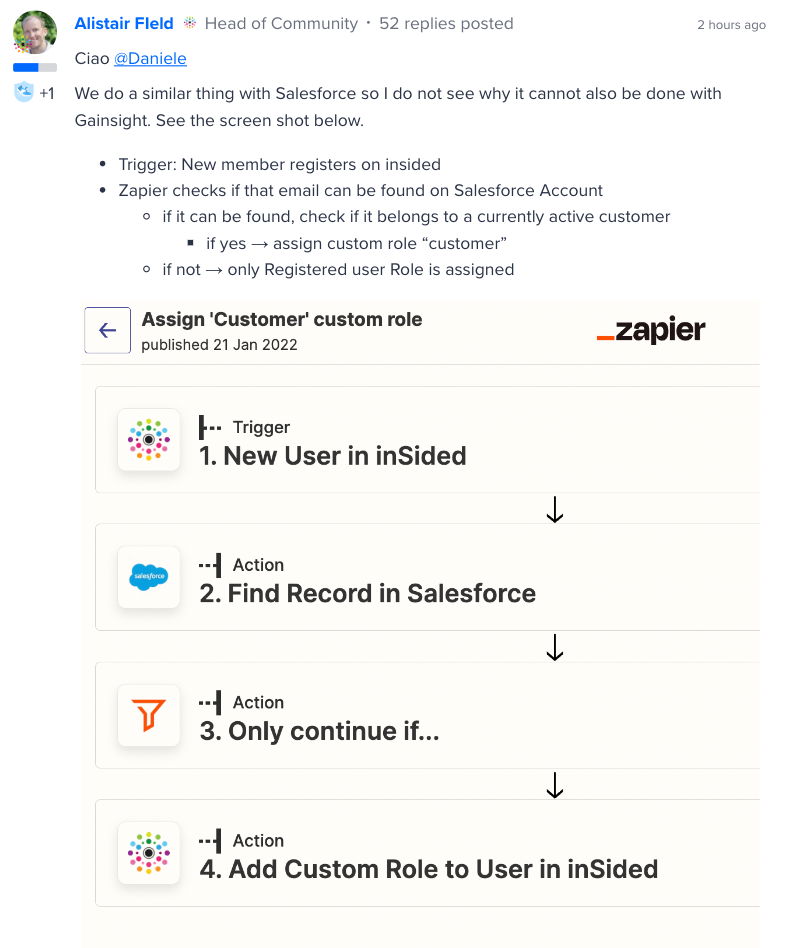 So now I know how to set up the Zap, but can anybody with good Gainsight Knowledge confirm that this is possible for Gainsight as well?

Cheers!