The use case here is regarding -



Share information with Customers/Partners - Ability to share information,demonstrate value and collaborate with customers




Share information with other internal teams (execs)- This is someone who does not have Gainsight access(both non GS and non SFDC user) but would want to access the view generated for the customer.


Proposed Solution
There has been discussion regarding Gainsight for Customers and how Gainsight can integrate with other customer portals and authenticate end users in the past
here
.
But there are a few use cases where you would want to share information in a adhoc basis based on the context like - A upcoming EBR Meeting, Exec Meeting with a customer, Success Plans Review with the customer post onboarding etc.
The idea here is the ability to create and share layouts(C360,R360,Dashboards etc.) via links and share it with non GS users.
The workflow would be as follows -
Configuration
a. The GS Admin configures external layouts(A combination of C360,R360 and dashboards) with sections for the layout
b. For the external layout to be shared , there are different settings available which are listed below-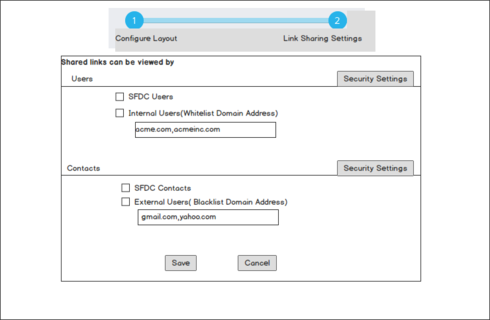 a. Share with Users - Share with SFDC users(via email address field)
b. Share with Contacts - Share with SFDC contacts(via email address field)
c. Share with non SFDC users via email addresses
Additional Security Settings
Expiry Links - Set expiry time for the link being shared. The link will not be valid after x number of days which can be configured
OTP Based Access - An additional layer of security where a OTP is sent to the email address to which it is being shared so that the link cannot be misused.
Sharing Mechanisms
Adhoc Sharing - The end user can view the applicable external layout/s from C360/R360 and share from C360/R360 to users/contacts/external email addresses.

Schedule Based Sharing Via Co Pilot - Links can be configured and shared to end users via co pilot as well so that the person receiving the email would have the ability to access the UI via the email.
Final End User UI Delivery
When the person who receives a link clicks on it, the layout will be rendered as a separate web page and a read only view.
[i]There are few aspects which we need your feedback on -
a. What do you think of the idea ? Adhoc Sharing by CSM to external users vs Schedule Based Sharing via Co Pilot - What do you think is more useful from your perspective?
b. Delivery mechanism of link sharing to non GS users(internal teams as well as external) via email? Is this something which you will find helpful to your executive team or other teams to access information from Gainsight?
c. Sharing information with external people brings in aspect of security into play. We have tried to mitigate it with expiry links and OTP based access. Do you think that this would be critical to have in order to use this feature? What other things would you think are important from your company's IT policy point of view?
d. Any other feedback and approach which we should be looking at?