I'm having trouble getting our dashboard to show correctly.
On the dashboard it is showing the column with the word "Group:" before the group measure. On the source report, the Field display name does not have this and it's making the dashboard hard to read since it's adding extra characters at the beginning. Does anyone know a workaround?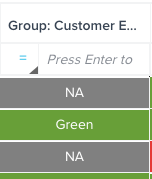 Best answer by jean.nairon 3 October 2020, 02:18
Hi @Robert_DeLaO,
That's unfortunately something that's hard-coded in Gainsight. Measures always show just the measure name and groups show the "Group: " appended at the front of the group name. There's unfortunately no way to change this that I am aware of. 
Hope this helps to clarify things. 
Jean
View original