Hi,
I'm trying to trigger an engagement for new users to our software using the "First seen" filter for Users but it doesn't seem to be working. 
I've tried using "Less than" 14 days and also just manually entering dates like below:

I know the engagement is working as a whole, because I've removed the above filter and just put in specific emails. When I did that, the engagement displays for the specific users.
I confirmed that there are users who are new as well in audience explorer, but the vocabularly used in PX is inconsistent: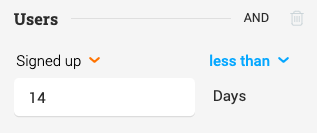 In Audience explorer it only has "Signed up".
So I have two questions here:
Does "Signed Up" in Audience Explorer = "First seen" in Engagements?
Does "First seen" work at all?
Thanks,
Best answer by Christian Scott 6 February 2020, 20:45
Got it,
So the "Signed Up" date is generated by PX.
"First Seen" would need to be generated on our side and then passed to you guys.
I'll just make sure to use "Signed Up" in the Engagement Audience qualifier section.
Thanks!
View original