I'm curious to know whether someone has been succesfull in capturing UTM data for tracked users in PX?
We would like to segment users in PX based on original UTM referrer (source, medium,campaign etc), in order to report on marketing campaigns and best performing traffic channels for new/trial users.
I know that the 'web site tag' allows for  tracking user activity from anonymous to lead to user, but I could not find a way to also capture UTM data from these anonymous visitors.
Thanks!
Jaap
Best answer by prashant_mathapathi 31 December 2019, 10:56
Hi jaap_groen , 

PX captures UTM data by default, for all the users. Gainsight PX provides you with five parameters to filter users based on UTM data. The five parameters are UTM source, UTM Medium, UTM Content, UTM Campaign, and UTM Term. 

In your scenario, I see that you wish to segregate your users based on the UTM source, medium, campaign, etc. You can easily accomplish this from the Audience Explorer page.

Let's assume that you wish to get a list of users who landed on your application through Google. You can execute the following steps to get the result.

1. Go to Audience Explorer
2. Click «.
 

3. Click Filters.
4. Click Add filters.
5. Select UTM Parameters.
 

6. Select UTM Source.
7. Type Google and select Create Google (if only "Google" is shown up in the menu, select it).
8. Click Apply.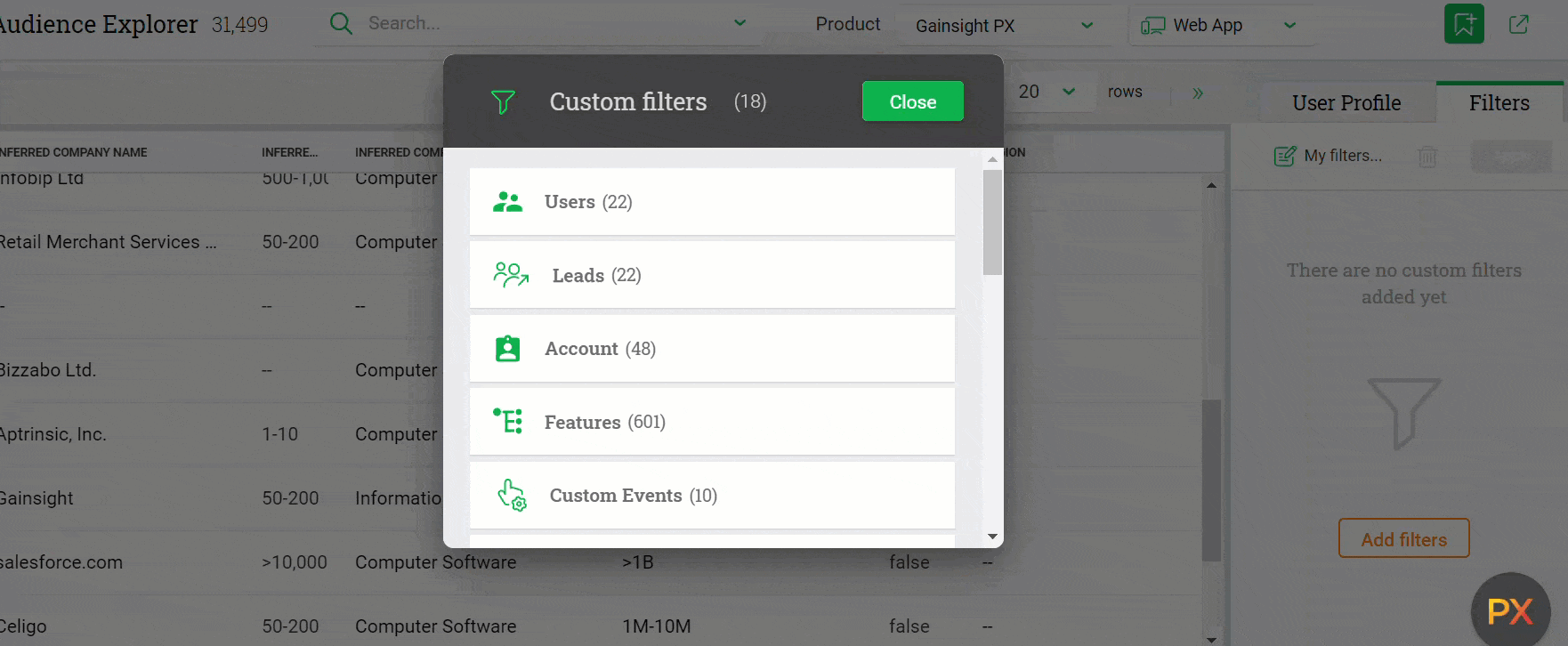 This provides you with the list of all the users (including anonymous users) who landed on your app through Google. You can export this as a CSV report by clicking the CSV link at the top right corner. Similarly, you can filter your users by other UTM sources, mediums, campaigns etc.

Hope this was helpful.
Regards
Prashant
View original