I couldn't resist; I made another custom dashboard.
Within one of our reseller partnerships, we have a Free/Premium model. I've previously trained our Customer Success team on how to pull GPX reports to compare Free/Premium usage. However, it was pretty time consuming for them and not all of them are data fiends like I am 🙂
So I took this opportunity to build a dashboard to compare usage highlights between free/premium accounts and users for this partner. That way, the partner manager can easily get a snapshot of what's going on.
left column = free
middle column = premium
right column = totals for that partner
Then, I used the same widget in each row with different filters for free, premium, and partner totals. That way, it's easy to scan since there's a lot of info all at once.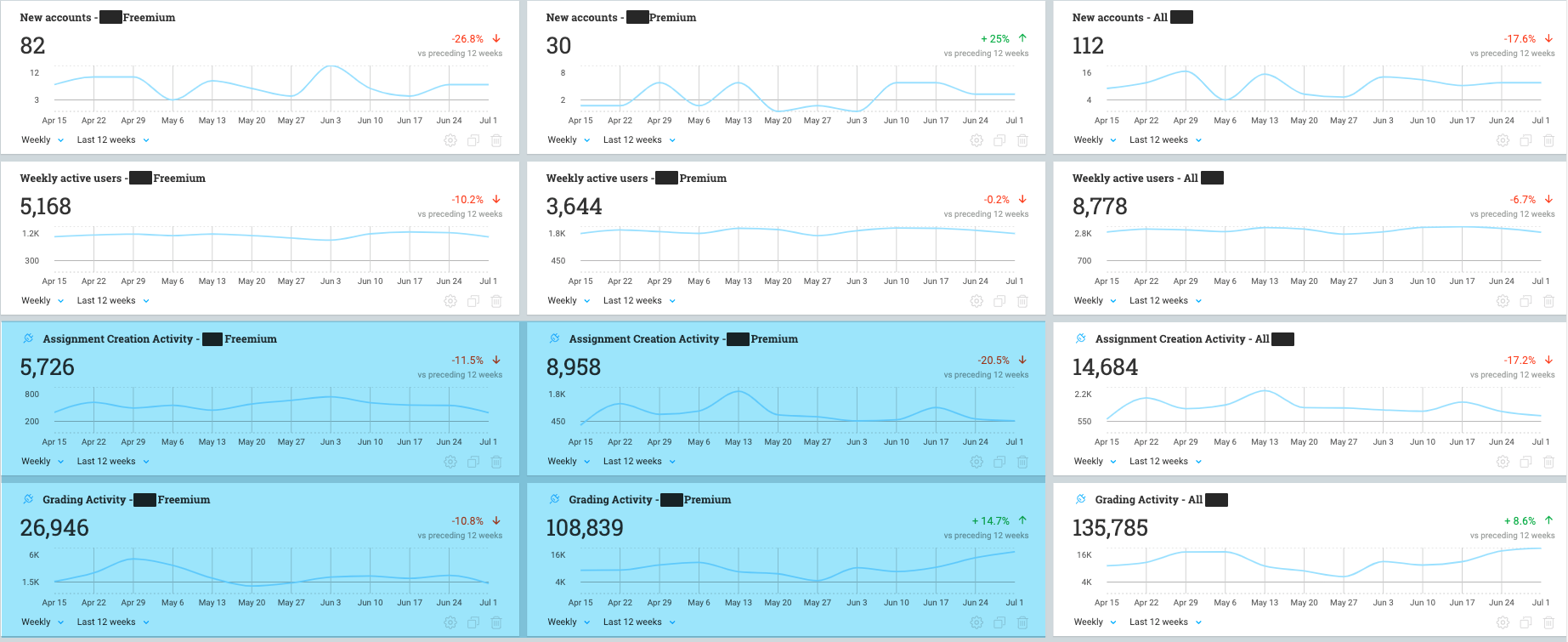 What I unexpectedly discovered is captured in the section highlighted blue. I've had this theory that some of our product "stickiness" comes from our grading and feedback workflows. This view shows that
The level of assignment creation activity for Premium users is 57% more than free users (even though they have access to way more types of assignments)
The level of grading activity (the theoretically "sticky" feature) for Premium users is 304% more than free users
This tells me that Premium users take advantage of the grading aspect far more, even though the features for that workflow are basically identical between free/premium
Of course, this begs the question of causality - are premium users using it more because they're premium, or are they premium because they saw the value they're using it more? But seeing the initial data set helps us ask better questions, so I'm glad we have this view now.
So rather than our CS team constantly encouraging our users to create assignments - we may take a different approach and get the assignment creation out of the way so users can dive into the grading aspect.
I may create more feature-focused dashboards after seeing this view.