Gainsight Admins, new and experienced, are invited to join us for our first
Admin Summit in the San Francisco Bay Area on October 30
. This will be a full day event with incredible content that Gainsight Admins of any skill level will benefit from. We're also planning the schedule so that you can customize your experience with actionable learnings to immediately accelerate your use of Gainsight.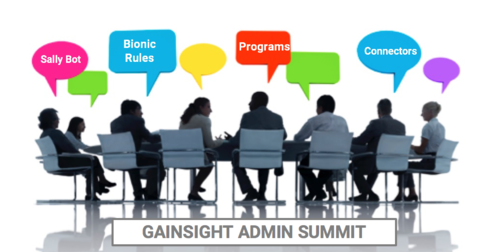 Here's a sneak peek at the agenda:
Advanced training breakouts - learn some of our newest and most powerful features, including bionic rules, Journey Orchestrator programs (formerly known as advanced outreaches), data management and others
Customer Showcase - we'll feature some of your peers who have solved unique challenges using the power of the Gainsight platform
Product feedback breakouts - bring your product ideas and business needs and speak directly with members of our Product Management team as we share our roadmap. Your input will help shape our product decisions!
Gainsight Elements - discover how your organization can leverage best practices and become more prescriptive and effective in your configurations
Networking opportunities - a full day will provide many opportunities to compare notes and make connections
What you should do right now:
Register for the event -- we want to see you at this special inaugural event!
Think about if you'd like to have your Company and Admin accomplishments featured in a Customer Showcase (you can indicate your interest in the Survey linked below)
Take the Survey ​(linked here)​ to provide your input on which topics you are most interested in learning about
Get excited!!
(Please note: If you already received our email invitation and completed the survey, there's no need to fill it out again. Also, this event is limited to Gainsight customers. Thanks!)