We're experiencing some problems with our Zendesk Submit Ticket and Sign In from
Gainsight Go
. In the meantime, please use the support chat option, or email
support@gainsight.com
. I'll provide an update here once the problem is resolved.
Also, because we moved all of our support articles to a new platform, all of the article URLs changed. If you click an old article URL (from an email or your bookmarks), it will take you to the new site, and it will present some related search results. If the topic is very common, the correct article may not be in the top results. If you search for our content on Google, it's also temporarily displaying old URLs and will redirect you to the new home page.
We recommend searching directly on support.gainsight.com.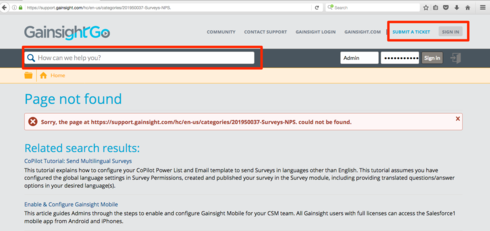 We apologize for the inconvenience while we work through these migration issues.