Promote your Community profile on LinkedIn, this will definitely add value to your career and also let people know that you are on the great platform of Customer Success. 
Please ignore if you already know. 
Steps to do this:
Step 1: Copy your profile from Gainsight Community, hit  My profile and copy the URL.

Step2 : Click on Add Section
Step 3: Click on Links, now in the pop-up window, paste the URL and hit ADD.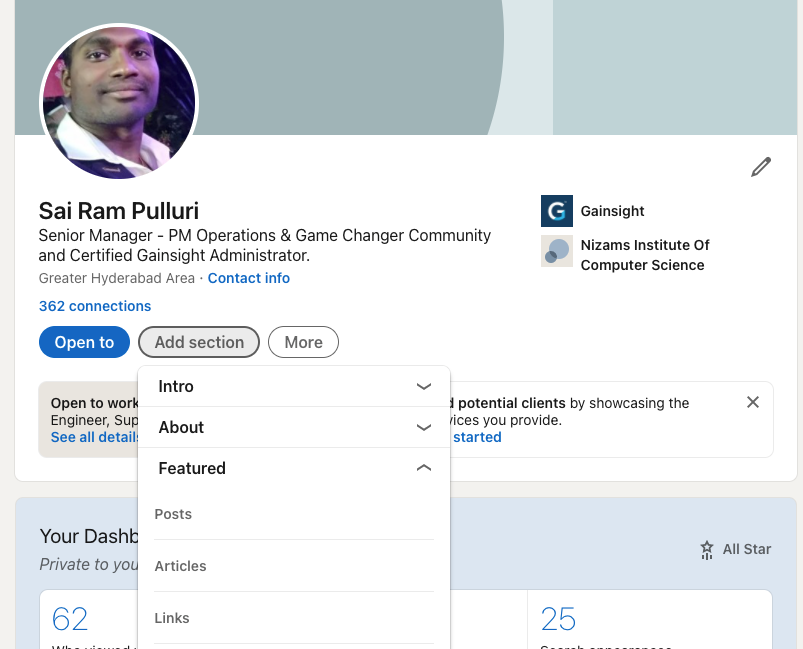 Now your profile will be added to the Features section like below, clicking on it will navigate to your profile.

Thanks @jean.nairon, copied your idea.
@darkknight, @gunjanm, @keith_mattes, @bradleymcg, @kumaranbcak, @heather_hansen​​@seth, @meenal_shukla, @HollySimmons, @sainyam_sandhu​​@lila_meyer, @dan_ahrens, @rakesh, @reneehouse, @kevin.olayta, @matthew_lind, @angela_domenichelli , @heather_landgraf, @andreammelde, @katie_b, @davebrown2242, @lyne_therien, @ben, @aparimala, @Jef Vanlaer, @cmultanen, @jlicciardello, @katie_b, @lyne_therien, @andorfuhrer, @tony_tao, @sierra_evans, @zach_davis.