Answer: I have seen this use case and have wrongly used Continue function for this use case, so I want to make sure that others learn from my mistakes
.

Here is how you can create a program so that you can send it out only on the weekdays:

1. Create a Salesforce formula field in the Customer Info/Company/Account object that determines the day of the week.

Formula can be cut and pasted from here:

CASE( MOD( TODAY() - DATE(1900, 1, 7), 7), 0, "Sunday", 1, "Monday", 2, "Tuesday", 3,

"Wednesday", 4, "Thursday", 5, "Friday", 6, "Saturday","Error")

2. In the participant configuration, add this calculated field:

3. Your handy helper is the Conditional Wait. Say your program looks like this. The first email is sent out as soon as the program becomes active or it can be scheduled to run on a certain date. Point is you can skip weekends in the first step. But once you wait for 2 days, there is no guarantee if that day is a weekend. Either ways, you can have ConditIonal wait at any point during this program to check if today is a weekday or a weekend day.
Your conditional wait looks like this: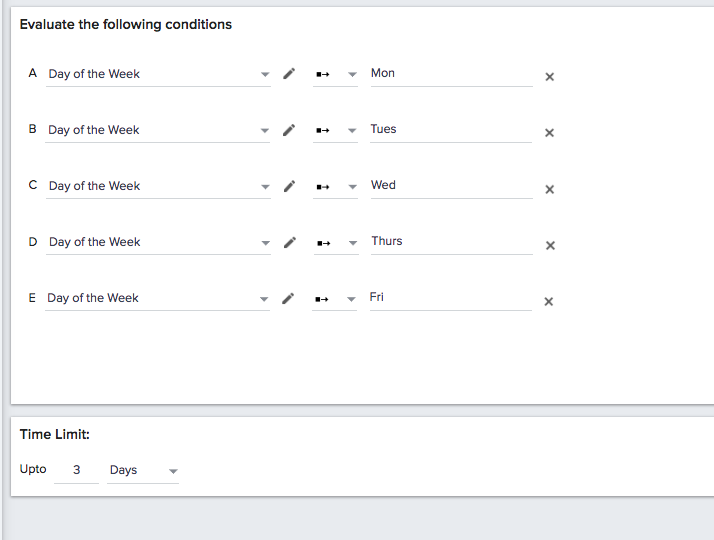 4. Note the logic above(this is on the right hand corner) is A OR B OR C....It defaults to AND and therefore you need to change that.

5. Also note the Time Limit as 3 days which means Wait up to 3 days in the conditional wait. This is telling the system to wait until one of the above conditions is true (because of the OR logic) for 3 days.

When it is in Wait, the program check until wait period (i.e for the next 3 days) for every 11 hours. So, let's say if the participant is added on Saturday then:
 
For the 1st 11 hrs, it is Saturday, so no email will be sent.
It checks again in next 11 hrs and it is still Saturday, so no email will be sent.
Then after next 11 hours it will be Sunday, so no email will be sent.
After 11 hours it will be Sunday, so no email will be sent
Then after 11 hours, it will be Monday, and according to the journey diagram above, the email will be sent.