We are heavy GPX users and rely on retention analysis for our growth performance. However - we still find it somewhat manual.
Idea one:
Here's a spredsheet that we have to manually pull (copy/paste) into a spreadsheet for refined analytics (
link
). There should be an export functionality (csv) so we don't have to recreate this viz in a spreadsheet. The export should respect the filters and daterange applied.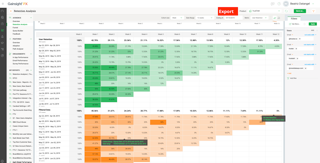 Idea two:
Please have the individual cells hyperlink to the list of users/accounts that came back for a given week. I.e. 2 accounts came back in Week 3. The expected behavior should be I clicking the number 2 in week 3 and seeing a list of accounts.