As a new Peloton bike rider, I know I'm late to the game. Peloton revolutionized at-home fitness and gamification back in 2014, rising to the height of its popularity during the Pandemic in 2020. Three years later, I decided to jump on the bandwagon and purchase a bike. I was excited to learn what the hype was all about and quickly joined the cult following, celebrating my streak of "clipping in" each day. Fast-forward a couple of months to a cold, gray, January day. I'm battling a head cold, my legs are sore from previous rides, and I was awake most of the night caring for two sick kids. "Clipping in'' was the last thing I wanted to do that day. Nevertheless, I begrudgingly changed out of my pajamas and committed to a 20 minute low-impact ride. As soon as the ride began, I was flooded with virtual high-fives from other riders and upon completion, received multiple badges for maintaining a workout streak and completing a milestone ride. My decision to workout that day, even though I didn't want to, was instantly reinforced with positive accolades. Then the next morning, I received an email from Peloton congratulating me for completing 50 rides, encouraging me to keep up the good work, and reminding me of where I am on my fitness journey.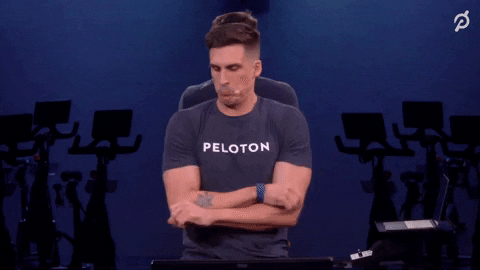 When I'm not crushing fitness goals on my Peloton bike, I coach Gainsight customers on how to build a strategy that utilizes both Gainsight PX and CS to meet their business objectives. My experience with Peloton's gamification and reward system instantly reminded me of a best practices discussion I've had with many Gainsight customers- When to trigger in-app engagements directly from PX and when should a Journey Orchestrator program in CS be used?
Immediacy
When making the decision about where and when end user communication should originate, it's important to first consider the requirement of immediacy. Do you need to urgently communicate something to a user as soon as they click a certain feature or visit a specific page in your application? Will providing a piece of information to the user in that exact moment make a positive impact on the way in which they are interacting with your platform? Consider the instant gratification and positive reinforcement I received during my ride in the form of badges and virtual high-fives. This type of "in the moment" communication is best to be launched directly from PX. Why? PX data is synced to CS once every 24 hours. As such, launching an engagement from Journey Orchestrator could potentially be delivered a whole day after the user performed an action that the communication is intended to respond to. By that time, the user could have moved on from the task they were completing or may have logged out of the application altogether. Here are some examples of scenarios when launching an engagement from PX is appropriate:
🎉 Congratulations! Offer a congratulatory message when a user completes a desired task, or set of tasks. This positive reinforcement can encourage continued use of your application. (Remember taking Psychology 101?)
🚀 Move Forward Offer suggestions for how a user can move forward and mature their use of your application. For instance, the user completed the desired set of tasks previously mentioned. What should they do now? Direct them to an area of the platform to explore next.
⚠️ Help! Offer help and guidance exactly when it's most needed. Has the user clicked the same feature multiple times without progressing? Provide an engagement with helpful resources on how to use that feature. Similarly, offer an engagement if the user clicked a Help button multiple times within a session. Include resources, video clips, or a Calendly link encouraging the user to schedule individualized training with your team.
User Journey
Next, consider the user's journey through your platform as their proficiency matures. In the Peloton community, a significant milestone is the completion of 100 rides, resulting in an exclusive Peloton Century Club t-shirt. The email I received congratulating me on my 50th ride gave me insight to where I was on the road to scoring my free t-shirt (I'm a sucker for swag 👕). While this emailed communication was valuable, it was not necessary to send this notification while in-application or "in the moment." The next morning, or 24 hours later, was sufficient. Consider launching communication from a Gainsight CS Journey Orchestrator program for purposes like this.
🚗 User Life-Cycle: Perhaps you'd like to recognize when users login to your platform a certain number of times or use a certain number of features. Build a JO program in CS that sends emails and launches in-app engagements when these user lifecycle milestones are achieved. The benefit of originating this communication from Journey orchestrator is that one end-to-end program can be created instead of triggering many "one-off" engagements, as would be the case when launching from inside PX. So long as the communication is not needed in the exact moment that user performs an action but is instead in response to the user's longer-term journey through your application, Journey Orchestrator is best.
🎯 Take Action: Another benefit of using a JO program to originate end-user communication is the ability to incorporate internal calls to action within the program. For instance, once the milestone email is sent to the user as indicated by their PX adoption data, a CTA is triggered to the marketing department putting into play the steps needed to send that user some swag.
Risk & Opportunity
Using PX adoption data in combination with CS Journey Orchestrator can be particularly useful for spotting risks, identifying opportunities, and acting on them.
🤑 Upsell Opportunities: Consider what platform activity indicates when a user is prime for an upsell and set a threshold. Perhaps the user has interacted with all ten of your stickiest features within their current subscription and is consistently logging in, indicating they might be thirsty for more? Use a combination of in-app and email marketing communication, as well as CTAs to internal team members notifying them of a potential opportunity, all within one automated JO program. Incorporate contact information that may be available in CS to curate this program to the Company's decision-makers.  
😬 Identify Risk: What user activity, or lack thereof, is a retention red flag? Anticipate risk by identifying what actions or absence of actions are indicative of churn and create a JO program to re-engage with lapsed users. If login trends have dropped, users will be less likely to receive in-app communication so it's best to utilize JO to send emails. Invite users to webinars highlighting new application features and offer incentive programs to increase user activity. Simultaneously, trigger CTAs to encourage CSM outreach and put risk playbooks into action.
Community
Remember those virtual high-fives that flooded my Peloton screen upon starting my 50th ride? I received motivation, encouragement, and a necessary push to keep riding. Best of all, this reinforcement was 100% from other riders like me, not Peloton robots! Peloton curated a community of champions to evangelize product adoption and retention. As a result, Peloton's customers are doing some of the Customer Success work for them! 🤯 Stay tuned for further posts on how you can use Gainsight InSided in cohesion with PX and CS to do the same with your customers. "Are you ready? Yes or yes?" -Ally Love, Peloton Instructor
Is your organization triggering PX engagements from Journey Orchestrator? Share your use case below!