We're just configuring our Zendesk-SFDC feed, and It looks like 'ZD-org to SFDC-Account' linking is currently manual, with the help center suggesting auto-linking is a roadmap item.
To future proof & be ready for auto-linking, there is a specific field in zendesk where we should be populating the Unique ID we use to match SFDC, platform etc to a Gainsight record?
Best answer by abhishek_sivaraman 8 August 2016, 11:15
Hi Adam,
As part of configuration along with adding sub domain,we are planning to introduce the ability to map zendesk org and account id in the next release and wanted to share our thoughts regarding the same .
Auto Mapping will help the support user to skip the process of manually linking an org and allow him to view Gainsight widget for the appropriate account based on the mapping.
The user will have two options -
a. Manual CSV upload
The user will have to map the following fields and upload it via CSV -
- Account Id
- Account Name
- Zendesk Org Id
- Zendesk Org Name
b. Auto Mapping based on an object in SFDC and MDA
We have some of the customers who have already brought in some of the fields from Zendesk and added it in custom objects or fields in account/customer info objects.
For those customers , they will have the ability to set up the object and map the above mentioned fields(Account Id, Account Name, Org Id and Org Name). The auto mapping process will happen periodically the same time as the sync has been scheduled for the zendesk tickets.
A mock screen of how it would look like -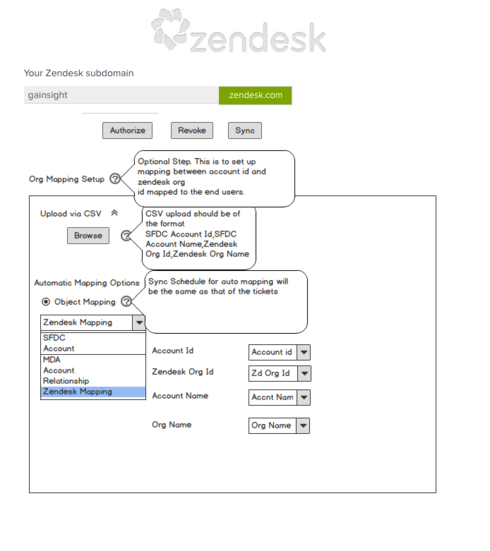 Hope this helps.Let me know if you have any questions or want to discuss in detail regarding this.
Thanks
Abhishek S
View original