Subscribe to this monthly newsletter here!
 
Hi there,
I've recently had a surge in questions about the 'right' investment in CS Ops. Welcome to budget season! I respect that it's a tricky challenge. You're not buying more of the same ol' stuff. It's more nuanced: you're investing to unlock access to a more sophisticated version of your CS team.
(Also recently, I've had entirely too much fun with DALL-E, generating AI art.)
So, if you're taking stock of your CS Ops spend, I have two north stars to offer:
(1) What's everyone else investing?
Data from 2021 says:
A ratio of CSM:CS Ops of 12:1. This comes from a Gainsight survey of 60+ companies with at least one CS Ops role.
61% of companies have CS Ops, which was triple the rate of the previous year. Average CS Ops spend = 3% of CS spend (middle two quartiles ranged from 1% to 7%). This comes from a Gainsight and RevOps Squared report, based on a survey of 350 companies.
For example, Gainsight's CS Ops team is called "Ops & Scale", and is over 20 people, including its SVP, who reports to the CCO. Our remit is large (see below), but our mission ties us together: Ops & Scale creates elegant solutions to ambiguous problems in customer and teammate experiences.
(2) How much do you get from the investment?
CS Ops is always oriented towards improving retention, expansion, account ratios, or new logos (via advocacy). Get Finance's help to pick the one(s) that will have the biggest impact on your business. I explain in this blog how to be a storyteller to leadership, drawing the line from these dollar-based metrics to programs that CS Ops pros are experts at executing.
Reinforce your storytelling with metrics. I posted the best tactics I've heard to measure CS Ops impact. Please comment with your own ideas and questions.
Digital Customer Success
(a.k.a. easy-to-explain ROI for CS Ops)
I used to think that, if Digital CS had a subtitle, it would be, "Automating CSM tasks." I've changed my tune. I now frame Digital CS as, "Answering customers' questions so CSMs don't have to." Automation can serve up resources so that a customer wouldn't even ask the CSM at all, but don't ignore opt-in/on-demand Digital CS. For example, Gainsight customers have questions about CS Ops all the time. Our CSMs now have numerous resources to offer, including this newsletter. In the olden days, CSMs would have had to compose and present information customer-by-customer. 
My manager, Tyler McNally, has been dropping some awesome visuals about Digital CS at Gainsight in my post about Digital CS org structures: Comment 1 | Comment 2.
Change Management in CS
If you missed (or are fondly missing) Pulse in San Francisco, I'm delighted to surprise you with one more session! Justin Bills wasn't able to present live, so here's your chance to get back in the mood.
Poor change management can be a Gainsight Admin's kryptonite. Learn from Justin Bills as he shares his superhero origin story, which began when he took over Greenhouse's Gainsight instance post-implementation. Learn the superpowers for change management that enabled Justin to drive team-wide adoption of Gainsight alongside record-breaking retention for the business. You'll fly away understanding how to engage your stakeholders, leverage agile project management, create visibility into CS operations, demystify an existing Gainsight instance, and enable your team.
Join us November 30, 9am Pacific. The registration page is almost live! Block it on your calendar with a link to our community events page, where you'll be able to find the info.
Use Your Data
I'm reading a book from 10 years ago, which offers a passionate call-to-arms to capture data about your customers. Part of me thought, "Ha! I couldn't stop collecting data. Can't wait for the section about CD-ROMs." But another part of me raised an eyebrow at the first part: "How much are you actually using the data you've got, Seth?" The grunt-work of analysis pushes me away. I've spent enough time in my life doing VLOOKUPs by email address. (I particularly resent the pang of fear, after an hour of work, that VLOOKUP might be case-sensitive. Spoilers: It isn't. But I just had to look it up. Again.) Let's keep reminding ourselves of how much power lives in our data.
As today's reminder, Valuize CCO Emily Ryan continues her series of CS Ops conversations by talking about customer data blind spots. She'll talk with Joel Passen, co-Founder at Sturdy, about how data can improve Net Retention when you make it visible, and when you use it to shape the customer experience.

Watch Emily & Joel
CS Ops Career Development
Come meet folks any time:
Maximize this Newsletter
You made it all the way to the end! 
Let me reward you with Romain Belvas hitting a bit too close to home:
Customer Success Systems Architect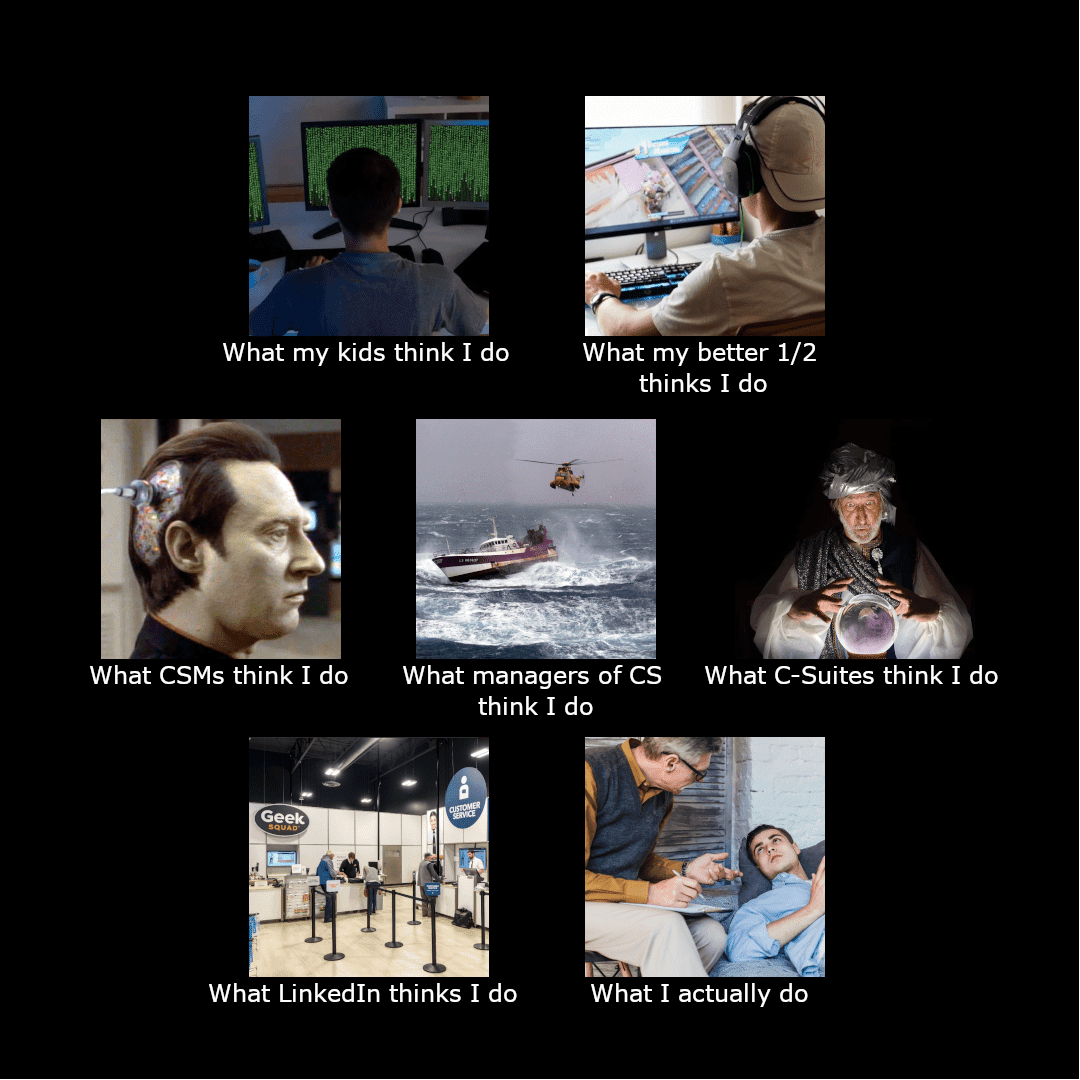 Seth Wylie | Director of CS Ops & Admin Community
He/Him/His | Based in Boston, MA
Gainsight Certified Administrator