As a Group Product Manager at Gainsight, I've learned that a strong Product & CS collaboration can truly supercharge both roles by empowering CS with product outcomes, and empowering Product with feedback and input for those outcomes.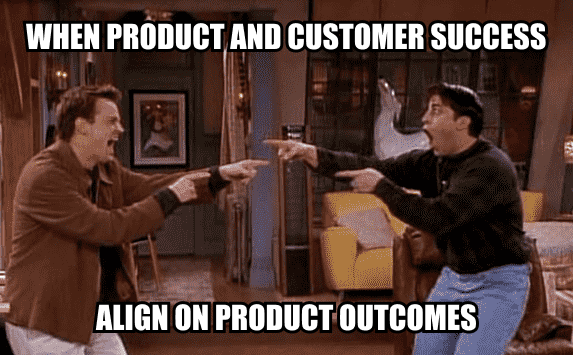 Here's 3 reasons why this friendship works, and 3 tips on how to take that friendship to the next level 🚀 
1️⃣ Shared interest in the success of the product
CS and Product's combined efforts lead to customers using your product successfully, which obviously helps improve retention. Especially in B2B SaaS, CSMs can help PMs identify unknown customer challenges and unmet needs. Leveraging these customer insights to address these needs through Product leads to a win-win situation 💪
2️⃣ Connecting customers to product teams
CSMs have first-hand insights in what their customers struggle with. If Product has an outcome, eg. to drive adoption of module X, CSMs can connect PMs to customers that are facing challenges in adopting module X, which makes product discovery so much easier.
3️⃣ Validate the roadmap, together
With a good knowledge of the product roadmap (ideally focussed on outcomes), CSMs can help validate the roadmap and our understanding of the market. By feeding this back to Product, we can make sure the updated roadmap always reflects our current understanding of the market. Rinse and repeat.
How to supercharge that friendship 🚀
⭐️ Let CSMs know the outcomes Product is trying to achieve
Instead of listing the features that Product is going to build with the CS team, share the outcomes that Product is trying to achieve (eg. increase adoption of module X). Doing so will help CS focus their conversations around value, and help Product identify, validate and prioritize candidates for working towards this outcome.
⭐️ Create a platform for collaboration and knowledge sharing
Make sure that there are frequent touch points between Product and CS. For instance, a monthly roadmap call between Product an CS will help CS better understand the product outcomes we're working towards, and give feedback on the candidates Product has identified in order to address that outcome.
⭐️ Always share roadmap feedback from customers with Product
Each roadmap conversation between a CSMs and a customer is actually an opportunity for us to validate our understanding of customer needs before actually building the features to address these needs. Which is why it's super important that any feedback on the roadmap is fed back to Product to help them improve the roadmap.

As for me, I consider myself lucky to have such an awesome friendship with our Customer Success team. It's making my life as Product Manager SO much more fulfilling 🤘
Let's hear from you!
What do you do to foster and supercharge this friendship at your company? How does Product empower CS and vice versa? Let us know in the comments!