Hello,
I would like to suggest that Gainsight add the option to select the "Activity Type" in the Gainsight Assist app for GSuite. We base a lot of our 'engagement' and 'CTAs' with companies based on timeline activities. Our reps run into the issue of 'logging to timeline' with the Gainsight Assist app and it's just logged as 'email.' Adding the selection to choose an activity type would make these logged timeline entries more valuable not only for our company but for others I would assume.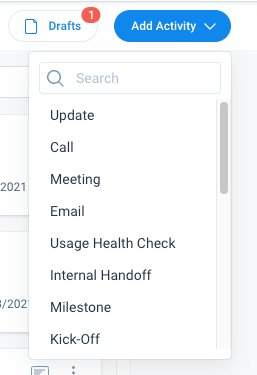 Would be great if there was a drop down menu to select the proper activity that is located in the Gainsight application. Seems like this could be a quick win. Then when you create reports based on timeline activity types you will get a much more accurate representation of your teams outreach engagements other than just getting the highest percentage of timeline activities logged as 'emails.'

We categorize a lot of our activities with customers by utilizing "Activity Type." Would love to know what others think about this upgrade idea to Gainsight Assist?