Follow up to this idea:
=18948887#reply_18948887]https://community.gainsight.com/gainsight/topics/the-ability-to-change-the-from-email-address-when-u...
Looking for the ability to customize specifically the "from email" and "from name" in the email assist tool for our pooled account management program not just the send domain. We can control this in gmail using the from dropdown (see screenshot) and in co-pilot via the standard form: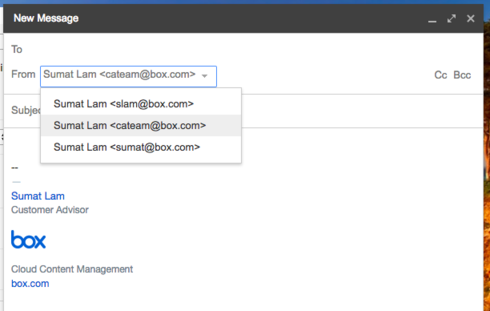 Use-case 1 -- Advisors (scaled CSMs) have consultation with a customer. They create a CTA and apply the post-consultation playbook which includes an email with a post-consultation materials. Using the above advisor as an example - the email should come from Sumat Lam "
cateam@box.com
". That way if the customer responds to the email, it is pushed back into the ticketing pool.
Use-case 2 (per Lane H.) -- Coverage while a CSM is OOO (maternity / paternity leave)
I do agree --- exposing this to everyone can be risky. Controls would need to be put in place to validate senders to specific email addresses.
Ideas around access:
Designate a set of 'approved list of send from email addresses'. A CSM wouldn't be able to put anyone's email address in, but could choose from a list of available options. That way an email address could be exposed for a certain time -- like maternity/paternity leave, but then removed once the mom/dad returns.
Permissions to 'approved send from lists' could be controlled by User, Role, and/or Profile.
I think a combination of the above would be perfect to protect against risk.