Or allow users to change it. When I go into the "My CTA's" and have the default sort by due date, these are the groupings: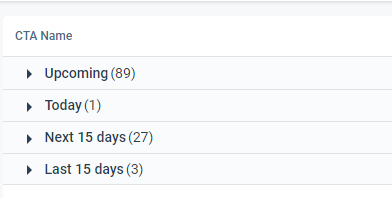 Why on earth are the ones end users are going to care about LEAST, the very first one? It should go "Last 15 Days, Today, Next 15 Days, Today". Or allow them to arrange it however they please.
This is also related to the design choice to not have a task view, which I will mention again here because it's related to this. The horizon experience does not mimic the actual workflow.