CTAs, Tasks, Playbooks, and Success Plans are closely related, but are distinct features with their own use cases. We get questions from administrators, CSMs, and others, so I wanted to help people understand how they work together.
First, let's take a quick look at a flow chart that helps to set up the big picture: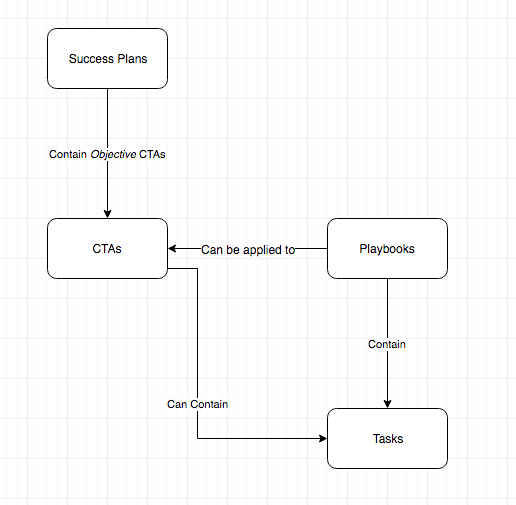 So these four features have a lot to do with one another - that's for sure. But let's zoom in a little to observe each element's distinct qualities.
Let's start with
CTAs
, as this is the one thing the other three features have in common! A CTA (Call to Action) is a "to do" that can be created manually by a user, or automatically by the Rules Engine. OK great! CTAs have been established. But what if I want some more detail and to be able to plan my steps in a CTA? This is where the "smallest" item on our list comes in -
Tasks
. In making Tasks, however, it should be noted that there is one caveat - they must live within a CTA!
The next item on our list is
Playbooks
. Let's say a CSM has one particular type of CTA that comes up often. A Playbook, then, is a pre-set list of tasks, so the CSM can have them ready to go the minute a CTA is created! This is ultimately the only function of a Playbook - that is, to set up Tasks to be applied easily to a CTA. In making Playbooks, a user can either apply it to a CTA manually, or the Rules Engine can apply the Playbook as it creates a CTA.
Finally, we have
Success Plans
, whose function is to capture, track activity, and share progress on a customer's key goals using Objective type CTAs and their associated Tasks. These Success Plans can be created manually or through the Rules Engine. Success Plans were developed to group together CTAs for a project and manage that work in custom fields. Success Plan Templates were then developed to make it easy to set up a project that happens often - like a customer onboarding process - and to ensure a consistent approach to delivering against customer goals.