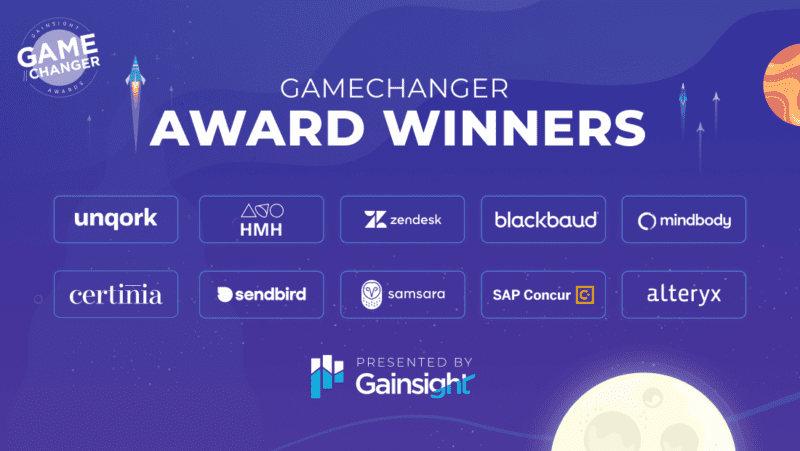 The GameChanger Awards are designed to celebrate the Gainsight customers that never stop challenging the status quo when it comes to customer success and experience. All Gainsight customers were eligible to apply for the 2023 awards. The winners were decided by a panel of judges based on their quantitative and qualitative results/stories.
The winners
Digital Customer Success Disrupter Award: @Jbarker from Alteryx, Samsara, and SAP Concur won the Digital Customer Success Disrupter award. These champions of efficiency combine the strengths of digital experiences and human expertise to power healthy customer life cycles at scale. They don't just think about success for a few customers, they set out to accomplish success for all customers. As a result, their companies reap the rewards of stronger adoption and customer retention.
Transformation Leader Award:  Mike Dover, VP of Customer Success at Certinia (formerly FinancialForce), is the winner of the Transformational Leader award which is given to a person who has driven material change in their organization by transforming customer success and product experience into a key driver of growth by leveraging Gainsight.
Visionary Award: @schartol from Sendbird is the winner of The Visionary award which is given to an organization that understands the value of a unified view of their customer data. They have mastered using 360º views, scorecards, and advanced reporting to shift their teams from a reactive to a more proactive approach.
Challenger Award: @RGrieco, @teenanicole1, @j2001797,  Houghton Mifflin Harcourt (HMH) is the winner of The Challenger award for their commitment to challenging the status quo and driving change in the industry. The organization has not only risen to the occasion to take on unforeseen challenges but found solutions to thrive with an uncompromising dedication to the success of the individuals in their organization, their customer base, or their community.
Experience Maker: @moellerbrianna  from Mindbody is the winner of The Experience Maker award which honors an organization that is hyper-focused on improving the experience of their customers and personalizing relationships at scale.
Defender Award: Zendesk is the winner of The Defender award which recognizes the company that used Gainsight to identify areas of potential risk to the business in order to increase product adoption, improve retention, accelerate expansion, and decrease churn.
The Architect: @DannyPancratz  from Unqork is the winner of The Architect award which is given to the company that thinks outside the box when it comes to building the best community for its users. Not only did they build a community that is helpful across the entire customer journey, but they also scaled the process of creating personal 1-on-1 relationships with their customers. 
Dream Team Award: @AnnieMo from Blackbaud, Inc. is the winner of The Dream Team award which recognizes how members of an organization bring together teams like Customer Success, Sales, Product, and Marketing to create deeper customer relationships.
"We are thrilled to recognize these trailblazing companies and individuals for their amazing contributions to the evolution of customer success," said Nick Mehta, CEO of Gainsight. "These pioneers understand the value of customer success in driving efficient growth and are defining the benchmarks for success in our industry. Congratulations to all of the winners!"
You can read more about our Gamechangers in our press release